About Chris Garland Training
We are proud to be joined by a panel of expert instructors and assessors who join us to provide sector specific and bespoke training courses. Our instructor team includes;
Chris Garland
Founding the company in 2012, Chris has grown the business to what it is today; a multi-faceted medical & safety training consultancy.
As a degree qualified building surveyor Chris's first career was in the private, public and third-sectors where he worked as a senior construction project manager across the UK & Europe.
During this time Chris qualified as an advanced industrial climber and tower rescue specialist. These skills led him to join Cheshire Search & Rescue team and later, as a community first responder alongside North West Ambulance Service.
However Chris wanted to get out of the office and back to one of his passions – being outdoors.
As a qualified "bushcraft & wilderness survival instructor & mentor" and as a forest school leader, the vision was to teach traditional crafts alongside the burgeoning bushcraft, survival and forest school education movements. This developed into a passion to teach people new skills, leading to the launching of Chris Garland Training in 2015.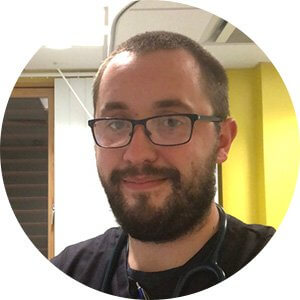 Phil Cracknell RN
Phil is a Senior Advanced Clinical Practitioner in Urgent Care and a Pre-Hospital Emergency Medicine (PHEM) Registered Nurse. Phil works as a Senior Lecturer in Adult Nursing at the University of Wolverhampton, and privately as an Independent Healthcare Consultant to businesses across the country.
With his expert knowledge, Phil leads our pre-hospital medicine courses including the wound closure courses, First Person on Scene (International) courses & First Responder courses.
Julian Woodall
Julian specialises in remote areas first aid, having served with the British Army for 15 years in multiple theatres around the world, where he cross-trained as medic.
Qualified in Crisis Disaster Risk Management & holding the NEBOSH General Certificate, Julian now works throughout the United Kingdom, Middle East & Africa as a training & safety consultant.
Luke Taylor
Luke is our expert consultant in Health and Safety, with over 10 years of working in the sector; many of these at director level within the health & safety and asbestos removal industries.
Trained in ISO9001 Lead Auditing and UKATA Asbestos Management, Luke ensures that training courses are delivered effectively and to the highest possible quality standards.
Through completion of the NEBOSH General Certificate and alongside study of Level 6 NCRQ in Applied Health and Safety, Luke takes pride in creating an engaging and simple approach to developing systems and promoting a positive culture.
Luke leads our Health and Safety courses, including our face to face Asbestos awareness courses and fire marshal courses.
Andy Ravenscroft
Andy's background is in military security & medicine, having served with the British Army for 10 years in multiple theatres around the world.
After leaving the military, Andy spent more than a decade working in the NHS Ambulance Service & private healthcare sector. During this time, Andy worked alongside the police, responding to incidents with mentally disordered offenders in the Criminal Justice System.
Through both these roles, Andy gained extensive experience of working with adults and children with mental illnesses, learning disabilities & challenging behaviours, in both the secure and community settings.
Andy's skills aren't limited to the classroom or ambulance, as he continues to work on the frontline within the Private Security Industry. Andy leads a team of security professionals, providing security at festivals, sporting events and nightclubs, including eviction teams.
Andy is also an advanced instructor in physical intervention & mechanical restraint. With this vast experience and skill set, Andy delivers a wide range of courses, including our face to face Conflict, Safety & Security courses and many other courses which are available by request.
Visit us today. See what you could become tomorrow.
We believe you should have the knowledge and training you need, to meet or exceed your workplace and legal obligations.
We believe that the training should be available in a way that suits you the most and at a time that's most convenient for you.
So that's what we do.
Provide you with the best training possible.
Learn more today, to be better tomorrow
Live the Charter for Employers Positive about Mental Health.
Promote equality, diversity and inclusion.
Do what's right, even if it's not right for us.
Maintain the highest level of integrity.
Continually further our commitments to Social Value and Environmental Responsibility.
These are just some of the businesses and third sector organisations who trust Chris Garland Training as their training partners.
Environmental & Social Responsibility
Our partnership with JUST ONE Tree (a non-profit initiative) means that every time you book on a course, we donate a portion of your course fee to them.
JUST ONE Tree use this money to plant trees in areas severely affected by deforestation, to maximise the effect of reducing global warming. In the process, they help to provide agricultural education and sustainable incomes to local communities.
Furthering your education helps to educate others!
JUST ONE Tree work to reverse biodiversity loss through global reforestation. Planting trees on land and kelp forests in the oceans, restoring the entire ecosystem, this helps to remove CO2 from the atmosphere.
To date;
Trees planted: 1522
CO2 removed from the atmosphere each year: 18.75 tonnes (approx.)
CO2 removed from the atmosphere over the next 25 years: 468.78 tonnes (approx.)
Explore Our Training Courses
100% Satisfaction Guarantee
We want you to feel confident in every purchase you make with us, which is why we offer a 100% satisfaction guarantee.
If for any reason you are not satisfied with our products or courses, contact us within 30 days and we'll work with you to make it right!
Excellent Training. We've booked Chris for training on a number of occasions, he's always quick to reply and the training is always a very high quality. We receive excellent feedback from our staff. We would highly recommend.
11/10 Great course. Chris is a legend! Informative, well-paced and interesting. Feel like I've learned a lot. The book was really high quality and the course covered a really good range of topics and was a fun learning environment.
An excellent course once again! Chris is brilliant teacher and very engaging. The best first aid course I've done and will recommend to others.
The course is amazing and super helpful! A bit intense, but we covered a lot of important things in the two days. Chris is a great person with a huge life experience!
A good balance between theory and practice. A great course.
A very interesting course with a dynamic knowledge and content delivery.
We've used Chris Garland Training before for our Ladder User Training. This was an excellent course and very effective. Bringing this skill in-house will help save the company lots of money. Thanks
Chris was a really good instructor & gave good examples. Now I feel safe using the equipment.
In depth and instructive. Well worth doing for safety.
A fun course and really informative. I enjoyed every day!
Really good course! Really happy!
Informative and fun while being serious in nature. Good new skills learned.
Very informative course. Very pleased.
Enjoyed the course & I learnt new things which I didn't know previously.
I have felt this course to be the most beneficial first aid course I have done. Very useful. Good to use real-life examples (epipen, etc).
Good, in-depth course, realistic and challenging to enable me to carry out the first aid role.
Chris made the course fun and interesting. An excellent course. Chris was professional and has expert knowledge. I learnt lots.
Didn't Find What You Were Looking For?

Get In Touch And Tell Us What Training You Need!
We're based in the Cheshire countryside town of Knutsford, although we operate nationwide. Knutsford is just off the M6 motorway (junction 19) and conveniently located on the Manchester Piccadilly-Chester train line.